"Pavlo Chubinsky" Capella Choir – Kiev, Ukraine
"Pavlo Chubinsky" Capella Choir was founded in 1989 and headed till 2016 by People's Artist of Ukraine Aleksandr Ziuzkin. In 1991 the choir was awarded with the title «Popular Choir» and since then it has taken the name of Pavlo Chubinsky, a well-known Ukrainian scientist, ethnographer and specialist in folklore. The choir has been a prize-laureate at many national and international choral competitions, among them "Mykola Leontovich" (Kiev, 2000), "Kyrylo Stetsenko" (Kiev, 2002), "Robert Shumann" (Germany, 2006), «Musica Sacra a Roma» (Italy, 2007), International Festival of Orthodox Sacred Music (Estonia, 2009), American International Choral Festival in St. Louis (USA, 2010) etc.
In 2008 choir won Bronze medal of the 5th World Choir Games (Graz, Austria). In 2009 they participated in the 1st World Grand Prix of Choral Music (Republic of Korea), in 2012 won silver medal at the World Choir Games (Cincinnati, USA), in 2013 – silver medal of the 1st European Choir Games (Graz, Austria). Since 2005 the choir has been taking part in the yearly event «The Anthem unite Ukraine», which includes concerts and educational programs in the Kyiv and Lviv regions and for the Ukrainian diaspora in Poland. In 2011 and 2015 together with the charity organization «Help South Sweden to Ukraine» the capella made a concert tour of the cities of the Kingdoms of Sweden and Denmark.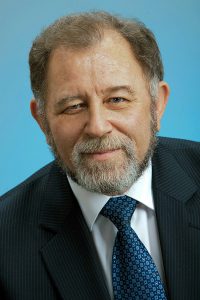 Dmytro Radyk was born in 1955 in Ukiraine. In 1974 he graduated at the Chernivtsy Pedagogical College, in 1984 – the Kyiv Music Academy majoring in choral conducting. From 1978 he has worked with different choirs: the Chamber choir "Resonance", the Capella choir of the Kyiv Pedagogical Institute, the "Grygory Veryovka" Ukrainian Folk Choir, the Capella Choir of Boys and Young People "The Bell", the Ukrainian Choir of Sacred Music "The Bells", the Capella Choir of the National Music Academy of Ukraine etc. From 2004 he has been Professor of the Chair of Choral Conducting at the National Musical Academy of Ukraine. In 1996 he was awarded Merited Artist of Ukraine.